Tripawds is a user-supported community. Thank you for your support!
Hi Everyone
Just introducing ourselves! I'm Jill and my 9 year old lab, Max, had his front right leg amputated on Thursday 21st May 2020 at the University of Liverpool Vet School in the UK.
Max, a month ago: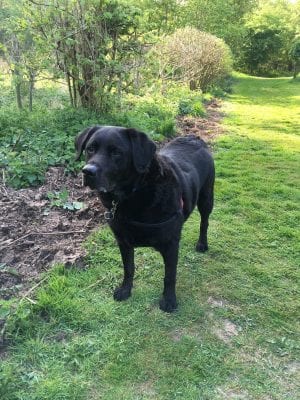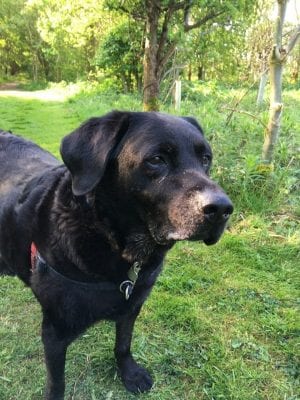 Max had elbow displacia in both elbows and had operations on each elbow – one in 2016 and the other in 2017. He remained pretty fit but started limping again in September last year. Our vets initially thought it was arthritis as we knew it was going to happen sometime, but then in late October I noticed a slight bump on his foreleg. After scans and biopsies showed he had a chondrosarcoma, we were referred to the local specialist. The scans etc showed it hadn't gone into the bones.
The specialist mentioned amputation, but we didn't want to do it at first because of his elbow history. So they first operated to try to remove the tumour, but they couldn't remove all of the tumour because it was intertwined with all the ligaments in his leg. Once the op site was healed, we were referred to the vet school for radiotherapy and chemotherapy which started in January this year.
Unfortunately the tumour didn't respond to radio/chemotherapy, and the scan prior to the last chemo session showed it had started to grow again, so amputation was the only option that could give him the best chance of survival.
We picked Max up from the hospital Saturday afternoon (23rd May) and he's been gradually gaining in confidence with his 3 legs.